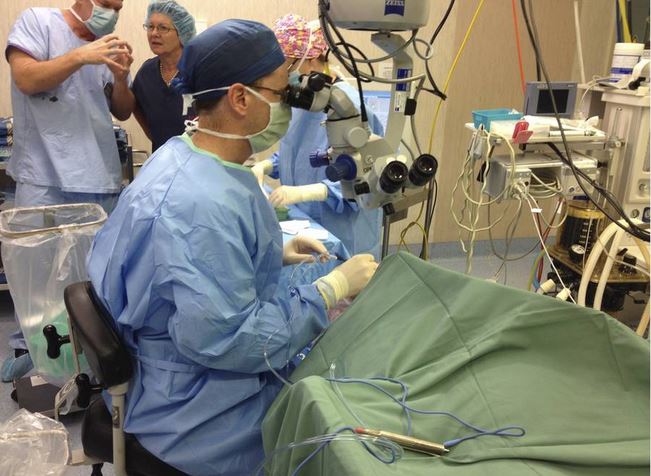 11 Mar

Glaucoma surgery a national first for Hunter

A NEWCASTLE surgeon has become the first in Australia to carry out a revolutionary eye procedure for glaucoma sufferers.

And, Dr David Manning hopes the surgery will become available to public patients in the region within the next few months.

He began carrying out the 20-minute procedure on patients at Hunter Valley Private Hospital and Charlestown Private Hospital in February.

It involves implanting a tiny piece of titanium, called an iStent, into the eye.

The device creates a channel for fluid to bypass the site of blockage in the eye and lower the pressure to help prevent further vision loss.

Glaucoma, the leading cause of irreversible blindness world wide, is caused when the optic nerve is damaged by a build-up of fluid.

Dr Manning said he had been ''badgering'' for three years to get the procedure approved in Australia – and it finally happened on February 10.

Since then he has carried out the procedure seven times.

Speaking to the Newcastle Herald yesterday for World Glaucoma Week, he said he was hopeful the iStent would become available to the Hunter's public patients later in the year.

"The procedure is minimally invasive and of glaucoma is reduced through safer surgery,'' he said.

Dr Manning, who works privately and as a visiting medical officer for Hunter New England, said he did his training for this new surgery in Armenia.

Over four days he carried out the operation 150 times with another specialist.

The first patient he operated on in Australia was Carol Hall, who is 72 and lives in Cardiff.

Since having the iStent implanted in her right eye a fortnight ago her intraocular pressure has gone down to a healthier level.

Next week she will go in to have the device put in her left eye.

"I didn't have a choice, I was going to go blind if I didn't have it," Miss Hall said.

"The glaucoma was very well advanced; I hadn't been to see an eye specialist in nine years.''

Miss Hall urged people to not put off getting their eyes checked.

"Glaucoma is a thing that creeps up on you, you don't get any warning,'' she said.

''Dr Manning said if I didn't have the iStent put in I would have gone blind in five years.''

Dr Manning is one of 5 Ophthalmologists who have come together to create iLaser Vision.